Pushing on in the twisties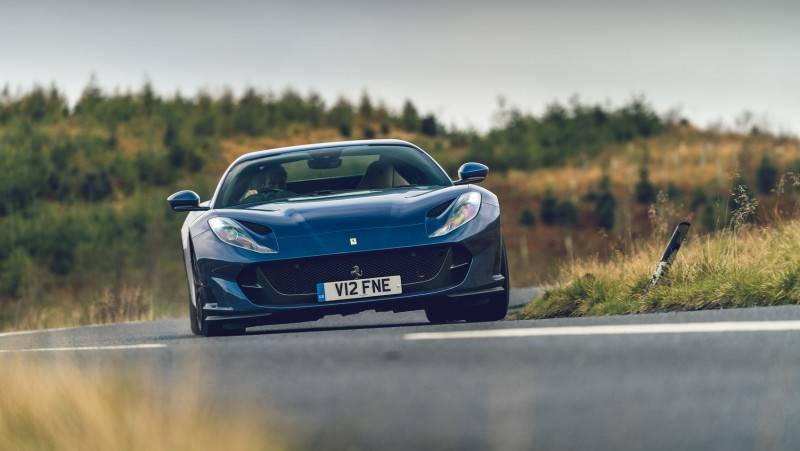 As time progresses, I'm beginning to feel more comfortable working the GTS harder, if still pondering whether I'd trade some agility for a calmer kind of feel on fast roads like this – as well as whether I actually want to disengage all safety systems to discover how this chassis really behaves. There's definitely more of an edge to these dynamics than Ferrari's mid-engined models.
Out in the chilly countryside, the roads we've picked have significant undulation and tighter twists and turns, so you don't need quite so much commitment to really dig in to this extraordinary chassis. What you do need is tyre temperature. There's a graphic to the right of the 812's steering wheel that shows when the Pirellis are warmed, and in the cold and damp it takes an age for the tyres to go 'green', the fronts first as I work the steering hard, the rears later as I'm being a bit throttle shy. Then bingo, four green tyres, more grip, virtuous circle.
It's actually startling to feel out just how much mechanical grip the 812 can muster with ESC off, even in damp and cold conditions. Push through that grip with a bung of steering and squirt of throttle and it immediately wants to bite and straighten, almost like the stability control isn't entirely disabled, and certainly with far more aggression than an F8 – clearly the four-wheel steering feeds in here, but apparently the new electric steering also adds subtle torque hints to help a driver correct slides. I can't say I process any of that stuff working away, just that the GTS responds better to big sends than tentative squirts past its limits. I've never driven a car that wants to straighten quite so aggressively, and together with yelps from the V12 this feels as close to lion-taming as you'll get on four wheels.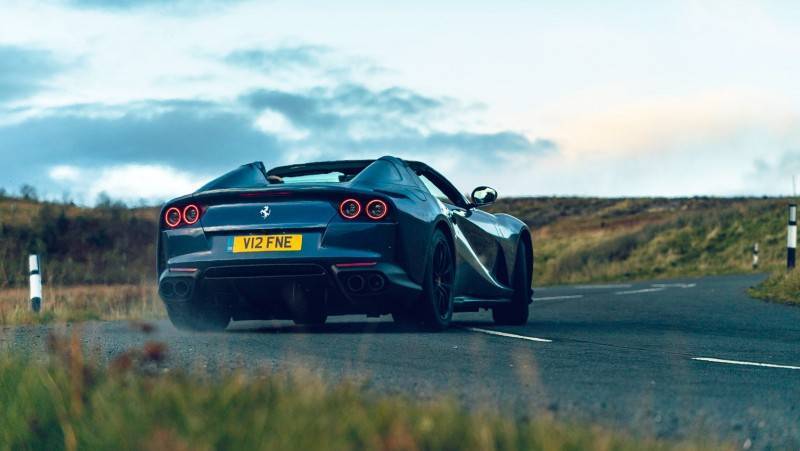 But breaching its limits helps me fully trust the 812 GTS. It's grippy, unbelievably agile, and so easy for throttle, gearshifts, brakes and steering to gel into a fast and smooth tempo, even if I never quite shake the lurking apprehension that this near-800bhp rear-drive weapon is a very senior piece of machinery. Respect is definitely due, in both senses of the phrase.
With the sun warming the sky, I squeeze that V12 past 5500rpm, unleashing a hedonistic rush of noise and speed as the needle breaches 8500rpm with the sound distilled into a fierce single-note howl. Modern turbocharged engines are marvellous things, but the response, linearity, sound and sheer bandwidth delivered here are all reminders of what we've lost in the march of progress – and Ferrari assures us the naturally-aspirated V12 is here for the long term, even if it is hybridised. Amen to that.
Let's get started!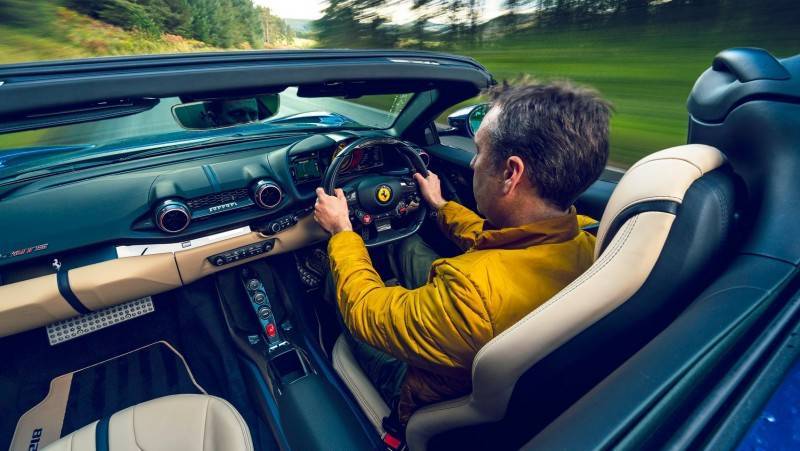 The driving position is pretty conventional and friendly enough to just jump in and go, the trim more racy-focused than GT-luxurious (and still with Ferrari's older infotainment), and the interior just as spacious as the coupe, but my 6ft 1in would do better with a seat that went a little further back and dropped lower.
The cockpit itself remains a bubble of calm, apparently helped by two L-shaped flaps on the upper corners of the windscreen frame, but the ride has a gnarlier edge than Ferrari's mid-engined V8s and the DBS, in both Sport and Race settings, though Bumpy Road mode softens brittle edges while retaining perfect control. There's a similarly big step in powertrain settings between Sport and Race – in the former the transmission shifts rapidly by any standards and throttle response is still pretty electric, if with a nod to refinement, but pull a shift paddle a few times in Race and pin the throttle and it's like the slightly wet thud of missiles leaving a silo.
So it's a real missile, then?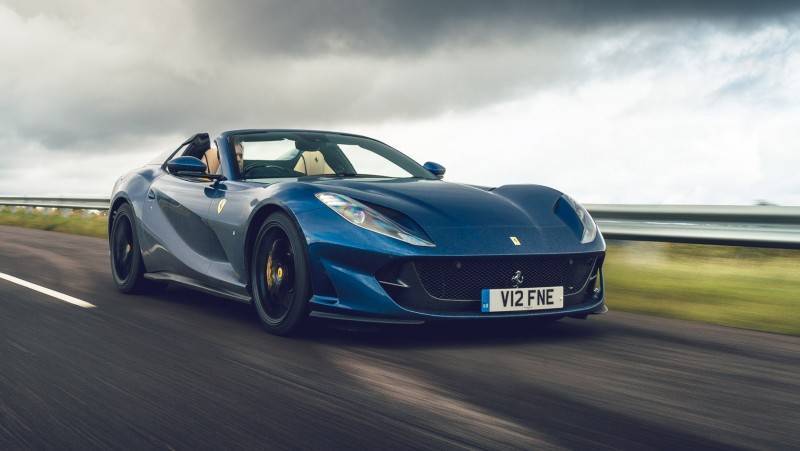 I'm in Race mode, meaning the GTS's responses are all tensed, with the caveat that the stability control's responses are now more 101 than 999, and I'm clenching everything like a power lifter going for a personal best. The 9000rpm on the tacho doesn't seem so far away as the throttle responds instantly and the needle ticks up from 3500rpm or so, at which point 80 per cent of the 530lb ft torque is already churning at the rear tyres, the remainder not served until 7000rpm.
Power and torque swell immediately, if without the sledgehammer of a turbo (Ferrari's V8's now produce more torque, and lower down too). Four thousand, four and a half… by now the GTS is pulling hard, the exhaust note starting to transition from burbling bass to shriller brass with a power curve that feels much like a (successful) space launch looks. Keep it pinned and shift lights at the crown of the steering wheel start to illuminate. Five thousand and we're really shifting, five and a…. suddenly the tyres – huge 315-section 20-inch Pirelli P Zeros with an unusually plump 35 sidewall and no shortage of traction – can take no more in these sub-optimal conditions. The revs flick up as the tyres spin and I quickly stab in 5º of steering lock to stop the 812 looking at a field. G-aaah! My heart continues to pound even as the revs stabilise. Suddenly 9000rpm seems tantalisingly out of reach. But what a powertrain. What a machine.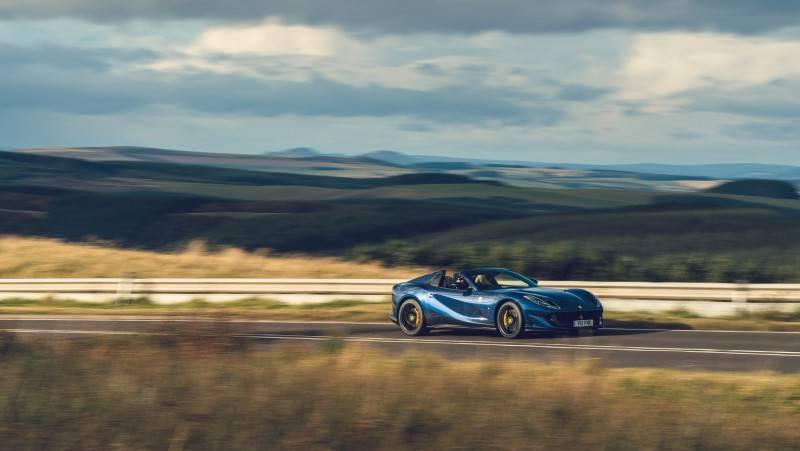 The 812 GTS is unusually wieldy, light and nimble for a car of this layout and size: it pivots around your hips even though you're basically driving a Top Fuel dragster, and you drive with the most economical of inputs, like guiding a sniffer dog on wheels. Still, I'm not full of confidence initially: the mid-weighted electric steering is super-accurate but can't rival a McLaren for communication, and the whole car feels a bit over-sensitive on these still-quick turns where I just want to lay into them with more generalised movements. But trust builds with experience, and the initially soft brake pedal wakes up to provide huge stopping power, the front end locks on to your chosen lines, and those rear tyres actually do a damn good job of transferring such extravagant power to the road.
Give me some spec details first…
Compared with the 730bhp F12, the 812's predecessor, Ferrari has introduced a longer stroke plus 350 bar direct injection, revised control of variable-geometry inlet tracts, a compression ratio upped just a fraction to 13.6:1 and a shrieky, non-turbocharged 8900rpm peak engine speed, far above rivals from Aston and Bentley that serve up less performance for less graft. Oh, and Ferrari has shortened the seven-speed dual-clutch gearbox's ratios six per cent so you can fast-forward to the good bits even quicker.
All this equates to 789bhp, 0-124mph in 8.3 seconds, a soundtrack that'd have the Philharmonic downing tools, and a large side order of intimidation when you squeeze that drilled throttle pedal to its stop.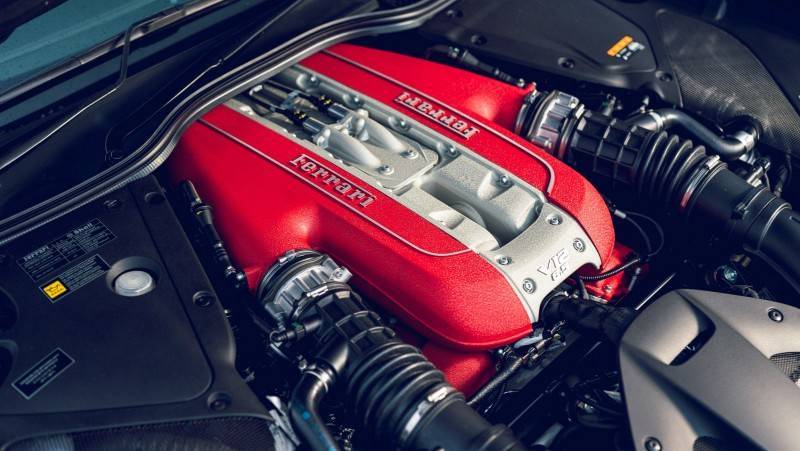 At a lightest of 1645kg without fluids, the 812 GTS weighs over 200kg less than Aston's DBS Superlegerra Volante rival, but it's still no featherweight. Two things, though: 1) the V12 is pushed so far back behind the front axle it looks to have had a very tidy shunt, and a transaxle shifts weight further rearwards still, so 53 per cent of the car's weight is distributed to the rear, and much of the bulk kept within the wheelbase, and 2), it has four-wheel steering and Ferrari's long established sneezy-quick steering.
The foldable roof's a nifty device, and rotates through 180º then disappears quietly under the tonneau cover in 14 seconds. Structural bracing adds 120kg, but the roof's neatly integrated into the design, with attractive rear buttresses flowing into a re-designed rear deck, and a profile that barely changes roof up or down because the difference is basically a small chunk of roof in the middle, a bit like a targa top. The diffuser at the lower rear of the 812 is modified to aerodynamically compensate for bodywork changes. The new hardtop includes, behind the seats, a vertical pane of glass that can drop for an invigorating blast of fresh air and V12 music, even with the roof up.